Xi Jinping's ally Wang Qishan 'prays' at Jerusalem's Wailing Wall
#1
· March 20, 2023, 11:16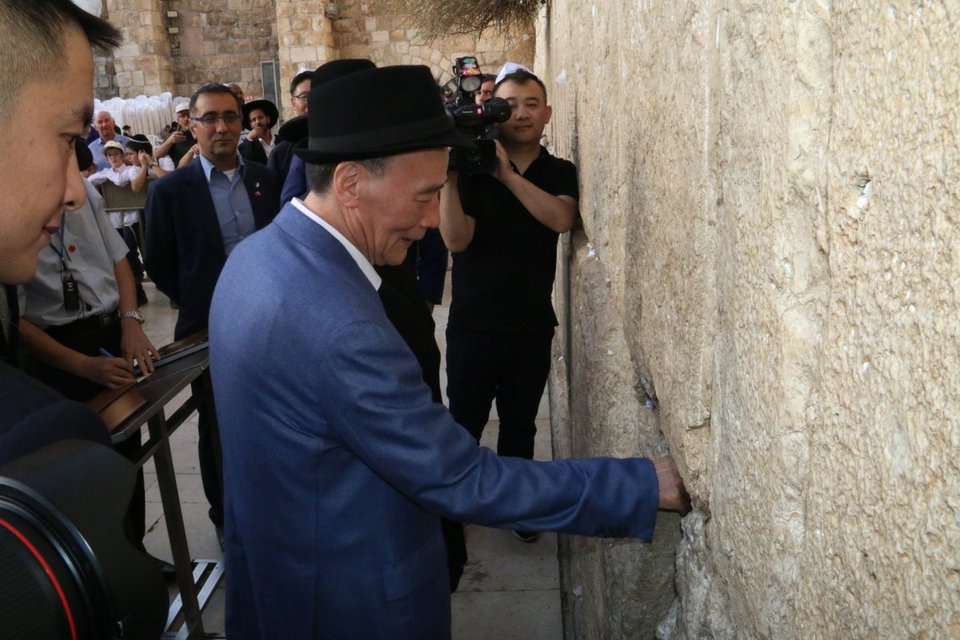 By Wang Zhicheng
China's vice president also visited the Church of the Nativity church in Bethlehem. Social media users note that Party members are not allowed to profess a religion or participate in religious services. Wang's gesture contradicts ongoing persecution (with churches and crosses destroyed). The number of Chinese tourists in Israel is growing, including Christian pilgrims. In the People's Republic of China, 85 per cent of the population believes in some form of religion or spirituality.
Beijing (AsiaNews) – A picture of Chinese Vice-President Wang Qishan has received world-wide coverage. It shows the close ally of Chinese President Xi Jinping with his eyes shut, head covered, resting his hands on the stones of the Western or Wailing Wall, in the Jewish section of ​​Jerusalem, in the manner every pious Jew prays for the coming of the Messiah. Next to him, a Chinese official with a kippa, leads the august member of the Communist Party at the simple ceremony.
On several Chinese blogs and social media, many note the contradiction of the situation. "Hasn't Wang Qishan not signed the commitment that a Party member should not be religious? On the one hand, Christian civil servants, teachers or doctors are not allowed to go to church; on the other, he is gone to the Wall to pray!"
For years the Chinese Communist Party has forced its officials not to take part in public religious ceremonies, and uphold instead atheism when they hold public office and when they retire.
The ban is as high-handed as it is useless. More and more Party members are coming to the Christian faith, are baptised in secret and travel hundreds of kilometres on Sundays to participate in Mass far from the eyes of those who know them.
According to sociologist Richard Madsen, at least 85 per cent of Chinese believe in some spiritual or religious element.
Online comments are not indulgent with Wang Qishan. "For years, you have demolished churches and crosses and curbed evangelisers, closing down countless places of worship," wrote one. "Really! Isn't it a bit phoney!" wrote another. "This is not really a behaviour of faith! For the Chinese, everything is used for their own interests, not just for fear of God!" added another.
In is not clear if Wang Qishan's gesture is designed to appease Israel, or if it is an expression of respect for a religion that does not exist in China.  Some agencies say that Wang Qishan also visited the Church of the Nativity in Bethlehem as well as the Palestinian Authority.
Wang spent three days in Israel and Palestine last week, from 24 to 27 October. He attended an Israeli Innovation Summit, together with Prime Minister Benjamin Netanyahu, to boost collaboration between China and Israel, especially in the field of information technology. Jack Ma of Alibaba, Eric Schmidt of Google, and David Marcus of Facebook were also present.
Since a China-Israel Joint Committee on Innovation Cooperation was set up in 2014, economic relations between the two countries have grown.
The number of Chinese tourists in Israel has also increased. In 2017 some 114,000 Chinese tourists visited Israel, a 41 per cent increase over 2016, many of them Christian.
Source: https://www.asianews.it/news-en/Xi-Jinping's-ally-Wang-Qishan-'prays'-at-Jerusalem's-Wailing-Wall-45332.html
Click for thumbs down.
0
Click for thumbs up.
1
Ryan has reacted to this post.